Rustic wide plank flooring crafted the way they used to do it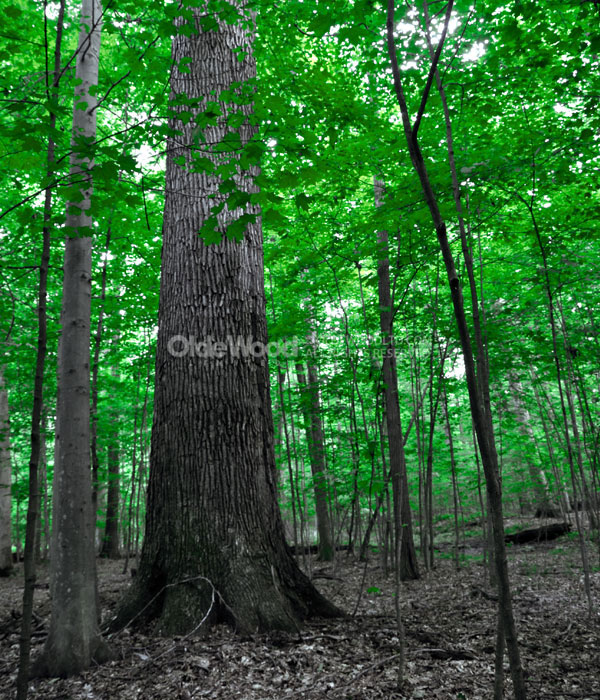 Rustic wide plank flooring milled from mature, fallen, or standing dead trees.
It's been said that they don't make them like they used to. If you have been floor shopping for any length of time now, you know this is often especially true with hardwood flooring.
Most modern milling companies utilize only certain parts of the log so they can be sure that the hardwood that will sit on the shelf of one store will look identical to that sitting at another. But there was a time when milling had a simple goal: turn a log into planks, and use as much of the log as possible.
Our Traditional Plank wide plank flooring IS done "the way they used to."

Olde Wood Ltd still believes in this time-honored practice, known as live-sawing, and we think you will agree that the results are breathtaking.
Replicating early pioneer sawing practices, our Traditional Flooring planks are live-sawn from fully matured, slow growth trees, resulting in tight natural grain variations, rustic appearance, and coloration and character that would be removed by other modern lumber grading practices. By utilizing the entire log through-and-through we are able to present you with the longest lengths and widest planks available, as well as minimize the amount of wood from our forests that is wasted. This rare milling practice creates a wide plank flooring product that features (and includes) multiple grades of lumber from board to board. The beauty of this flooring line is accented by a mixture of select-grade cuts, such as rift and quartered, plain, and quarter-sawn boards, that are normally separated and sold at a premium price by other manufacturers.
At Olde Wood, our Ohio-based facility gives us fast access to some of the nation's most prized hardwoods, enabling us to inventory a large selection of fully mature, slow-growth wood.