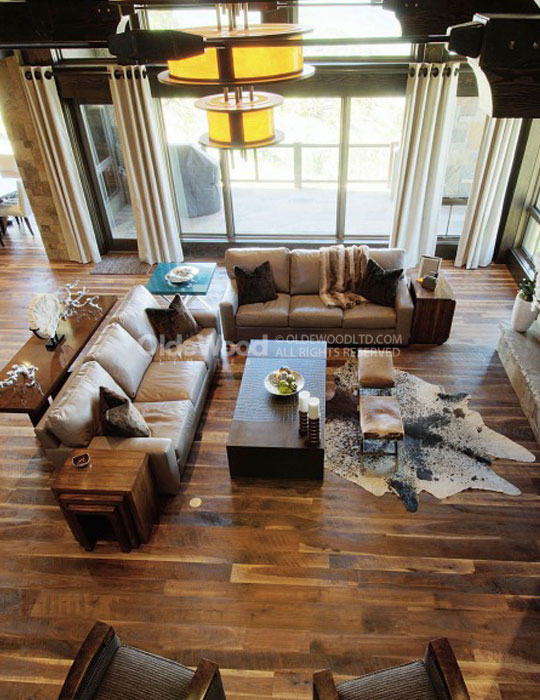 View Gunstock Walnut Gallery
Finish Options:
Traditional Plank Flooring
Gunstock Walnut
Long prized as a premium hardwood for furniture, walnut's exceptional, purple-tinged chocolate hues will help you create a one-of-a-kind room with an historic touch. This black walnut wide plank flooring is manufactured without steaming to preserve light sapwood accents and create a natural, one-of-a-kind sheen. Walnut's strength and beauty will last a lifetime and beyond.

Distinctives of Traditional Plank Gunstock Black Walnut Flooring
This wide plank walnut flooring is milled from fully matured and responsibly sourced logs that are plain-sawn through and through using a 60-inch circular saw blade – imparting its rustic saw-mark texture. Walnut features a rich blend of coffee-colored browns with occasional touches of caramel from its light sapwood. It offers an extraordinarily tight grain pattern, sound knots and natural checking.
Specifications

Engineered Flooring Specifications

WIDTHS: 3" to 10"
LENGTHS: 2' to 12'
THICKNESS: 5/8" (3/4", 11/16" available)
AVAILABLE FINISH: Unfinished, UV Pre-finished, Natural Oil Pre-Finished
SURFACE & CUSTOM OPTIONS: Wire Brushing, Beveled Edge, Hand-Scraping, Same Width Planks, End Matching up to 10"

Solid Flooring Specifications

WIDTHS: 3" to 12"
LENGTHS: 2' to 12'
THICKNESS: 3/4", 5/8", 1/2", 3/8"
(5/8" up to 8" only), (1/2" up to 6" only), (3/8" up to 4" only)
AVAILABLE FINISH: Unfinished, UV Pre-finished, Natural Oil Pre-Finished
SURFACE & CUSTOM OPTIONS: Wire Brushing, Beveled Edge, Hand-Scraping, Same Width Planks, End Matching up to 12"

Download Spec Sheet

Our Gunstock Walnut in widths of 8" and over has an extended lead time due to higher demand. Please contact a Design Specialist if you have any questions on this matter.

Accessories