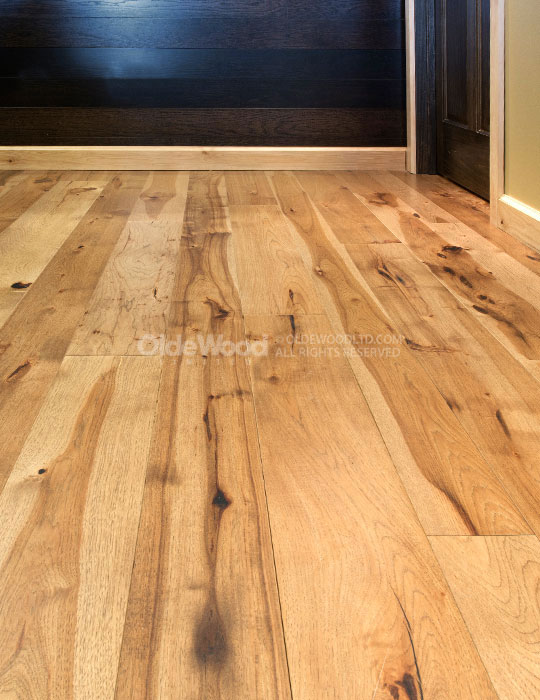 Finish Options:
Traditional Plank Flooring
Hickory
Morning and midnight swirls of color mingle with smooth, robust grain patterns to distinguish Traditional Plank Hickory Flooring – a wood of unparalleled strength and hardness. Each carefully crafted plank possesses unique features and colors that can only be found in slow-growth timbers.
With its strikingly modern look and casual, comfortable appeal, hickory hardwood flooring will help you create an airy, contemporary space that's perfect for kids and pets.
Distinctives of Traditional Plank Hickory Flooring
This hickory wide plank flooring features wide variations in color, from nearly white to dark brown, and a delicate balance of sound knots and natural checking. It is the strongest commercial wood available.
Specifications

Engineered Flooring Specifications

WIDTHS: 3" to 11"
LENGTHS: 2' to 12'
THICKNESS: 5/8" (3/4", 11/16" available)
AVAILABLE FINISH: Unfinished, UV Pre-finished, Natural Oil Pre-Finished
SURFACE & CUSTOM OPTIONS: Wire Brushing, Beveled Edge, Hand-Scraping, Same Width Planks, End Matching up to 11"

Solid Flooring Specifications

WIDTHS: 3" to 12"
LENGTHS: 2' to 12'
THICKNESS: 3/4", 5/8", 1/2", 3/8"
(5/8" up to 8" only), (1/2" up to 6" only), (3/8" up to 4" only)
AVAILABLE FINISH: Unfinished, UV Pre-finished, Natural Oil Pre-Finished
SURFACE & CUSTOM OPTIONS: Wire Brushing, Beveled Edge, Hand-Scraping, Same Width Planks, End Matching up to 12"

Accessories