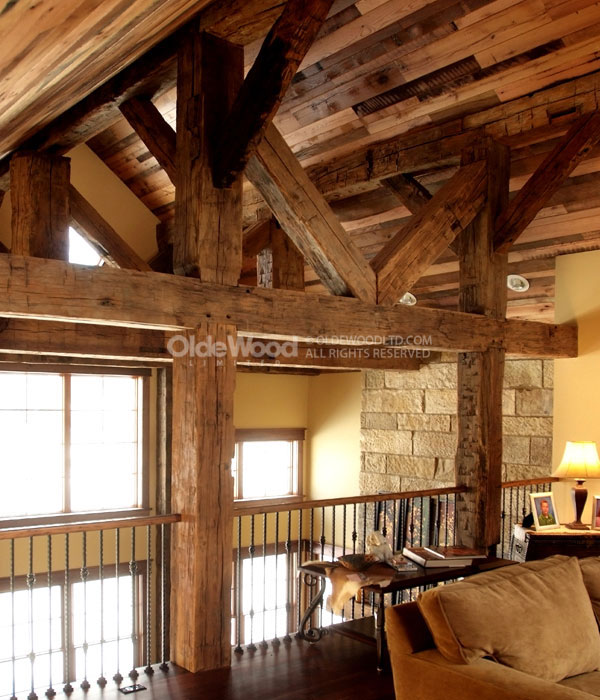 The strength and splendor of
reclaimed barn beams

will endure the tests of time.

Wooden barns and stables were once the foundations of America's agrarian society, built with care and supported by strong wooden beams. Today, those reclaimed wood beams gain new life as rustic timbers for your home, deck, or patio.

Our solid hand hewn beams, which we specially select for their quality and appearance, can become a thing of beauty for the interior or exterior of your home. Use our reclaimed wood beams for a rustic fireplace mantel, as wooden ceiling beams, or together with reclaimed wood planks for your deck or patio. Their structural and decorative purposes are limited only by your imagination.

Repurposing reclaimed wood beams demonstrates your dedication to preserving our nation's past and to a sustainable future. All our reclaimed wood beams qualify for LEED points under the materials and resources category and are guaranteed to last.




Resawn Barn Beams
Resawn beams are custom milled to create a modern, smooth-surface appeal. We run antique barn beams through a series of band saws to remove marks of age, surface imperfections and irregularities. This technique restores the wood's grain, bringing to the surface a texture and pattern dating back nearly a century or more.
Hand-Hewn Barn Beams
For our hand-hewn beams, we reclaim wooden beams harvested more than a century ago and hand-crafted by master craftsman using small axes. These old wooden barn beams were commonly used as support structures in barns and wooden buildings. Each wooden beam features authentic cuts, mortises and notches from the early beam-and-post framing technique.
Rough Sawn Barn Beams
Our rough-sawn beams feature the original circular saw marks common in the era of steam-powered and water-powered saw blades. Rough-sawn barn beams feature a cleaner, more even surface than our hand-hewn beams, though you'll still enjoy the natural checking, weathered grain, saw marks and nail holes that mark their authenticity. These prized barn beams are for sale upon request only; please call for availability.
---
Available Beam Shapes:

---
Choose your Custom Fireplace Mantel made from Reclaimed Barn Wood Beams
Olde Wood's reclaimed barn beams and antique timbers enable you to create a one-of-a-kind barn beam mantel that will add a special spark to your barn stone fireplace. These beautiful hand-hewn timbers will provide the character, serenity and warmth you're looking for as you relax next to the fire.