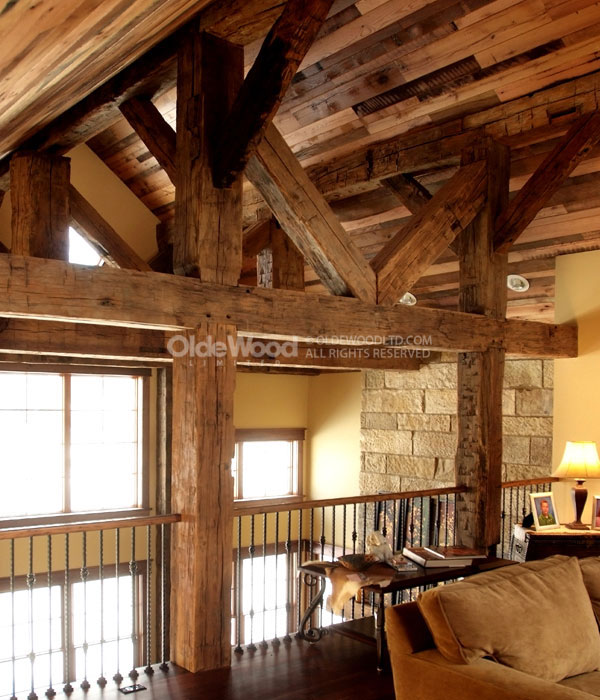 The strength and splendor of
hand-hewn barn beams

will endure the tests of time.

In the past, barns and stables were the center of America's agrarian culture. They were built with care and supported by the strongest beams because families needed these structures for survival, to protect their animals and harvest from the elements.

As the nature of our society continues to change, old barns – together with aging factories and industrial buildings – are now being reclaimed for their quality, old-growth wood and timbers that cannot be duplicated by today's technology.
Repurpose old-world timbers for your contemporary housing design or renovation.
Our solid, hand hewn beams, which we specially select for their quality and appearance, can become a thing of beauty for the interior or exterior of your home. Use our reclaimed beams for a rustic fireplace mantel, as timbers across your ceiling or together with planks for your deck. Their structural and decorative purposes are limited only by your imagination.
Repurposing reclaimed wood beams also demonstrates your dedication to preserving our nation's past, as well as furthering its present goals for sustainability. All our materials qualify for LEED points under the materials and resources category and are guaranteed to last.
At Olde Wood, we offer a variety of reclaimed wood beams and posts from centuries-old structures that are two- or four-sided, hand-hewn, resawn and available with an original or sanded surface. With their rustic, yet refined appeal, these hand hewn beams include saw marks from the original milling or axe cuts from the carpenter who carved them by hand. Our hand hewn beams and timbers are selected for premium quality and overall look.
Learn more about our reclaimed hardwood flooring and barn siding – or – contact us for a reclaimed beam quote..
---
Available Beam Shapes:

---
Olde Wood's reclaimed barn beams and antique timbers enable you to create a one-of-a-kind mantel top that will add a special spark to your barn stone fireplace. These beautiful hand-hewn timbers will provide the character, serenity and warmth you're looking for as you relax next to the fire.