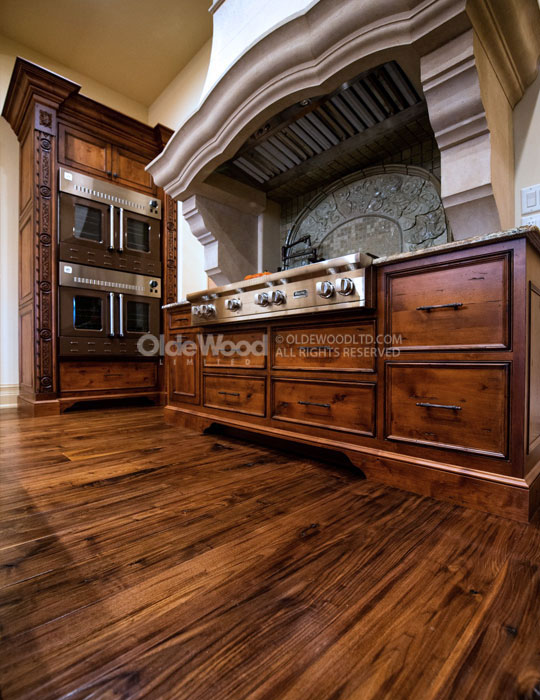 Finish Options:
Traditional Plank Flooring
Walnut
With its incomparable, purple-tinged chocolate hues – Traditional Plank Walnut will help you create an exceptional space of unparalleled style and refinement. This walnut wood flooring is manufactured without steaming to preserve light sapwood accents and create a natural, one-of-a-kind sheen, walnut's strength and beauty will last a lifetime and beyond.
Distinctives of Traditional Plank Walnut Flooring
This wide plank walnut flooring is milled from fully matured and responsibly sourced logs that are plain-sawn through and through. Walnut features a rich blend of coffee-colored browns with occasional touches of caramel from its light sapwood. It offers an extraordinarily tight grain pattern, sound knots and natural checking.

Specifications

Engineered Flooring Specifications

WIDTHS: 3" to 11"
LENGTHS: 2' to 12'
THICKNESS: 5/8" (3/4", 11/16" available)
AVAILABLE FINISH: Unfinished, UV Pre-finished, Natural Oil Pre-Finished
SURFACE & CUSTOM OPTIONS: Wire Brushing, Beveled Edge, Hand-Scraping, Same Width Planks, End Matching up to 11"

Solid Flooring Specifications

WIDTHS: 3" to 12"
LENGTHS: 2' to 12'
THICKNESS: 3/4", 5/8", 1/2", 3/8"
(5/8" up to 8" only), (1/2" up to 6" only), (3/8" up to 4" only)
AVAILABLE FINISH: Unfinished, UV Pre-finished, Natural Oil Pre-Finished
SURFACE & CUSTOM OPTIONS: Wire Brushing, Beveled Edge, Hand-Scraping, Same Width Planks, End Matching up to 12"

Accessories