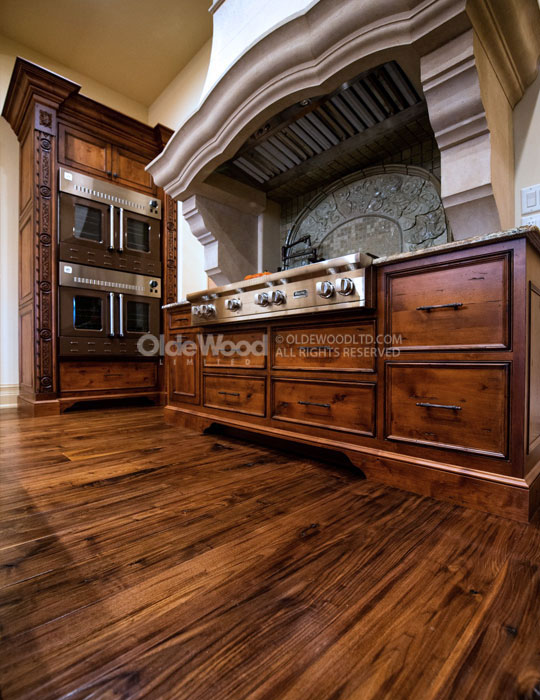 Finish Options:
Traditional Plank Flooring
Walnut
With its incomparable, purple-tinged chocolate hues – Traditional Plank Walnut hardwood flooring will help you create an exceptional space of unparalleled style and refinement.
This walnut flooring is manufactured without steaming to preserve light sapwood accents and create a natural, one-of-a-kind sheen. The natural strength and beauty of your walnut floors will last a lifetime and beyond.
Features of Wide Plank Walnut Flooring
Our wide plank walnut flooring is milled from fully matured and responsibly sourced logs that are plain-sawn through and through. Walnut features a rich blend of coffee-colored browns with occasional touches of caramel from its light sapwood. It offers an extraordinarily tight grain pattern, sound knots and natural checking.

Specifications

Engineered Walnut Flooring Specs

Our traditional walnut engineered flooring features a 4mm real hardwood walnut wear layer glued over a real birch plywood core. The wear layer is thicker than you'll find on most engineered walnut floors to provide superior durability.

WIDTHS: 3" to 11"
LENGTHS: 2' to 12'
THICKNESS: 5/8" (3/4", 11/16" available)
AVAILABLE FINISH: Unfinished, UV Pre-finished, Natural Oil Pre-Finished
SURFACE & CUSTOM OPTIONS: Wire Brushing, Beveled Edge, Hand-Scraping, Same Width Planks, End Matching up to 11"




Solid Walnut Flooring Specs

Unlike mass-produced flooring products, Olde Wood's walnut solid hardwood floors are live-sawn from fully mature timbers using sawing techniques based on those of America's early pioneers. Our solid walnut floor planks can be custom finished to your specifications.

WIDTHS: 3" to 12"
LENGTHS: 2' to 12'
THICKNESS: 3/4", 5/8", 1/2", 3/8"
(5/8" up to 8" only), (1/2" up to 6" only), (3/8" up to 4" only)
AVAILABLE FINISH: Unfinished, UV Pre-finished, Natural Oil Pre-Finished
SURFACE & CUSTOM OPTIONS: Wire Brushing, Beveled Edge, Hand-Scraping, Same Width Planks, End Matching up to 12"

Accessories

Shop for a wide range of walnut hardwood flooring accessories at Olde Wood Ltd, including walnut stair treads, baseboards, risers, vents and more.

» Wooden Stair and Stair Parts