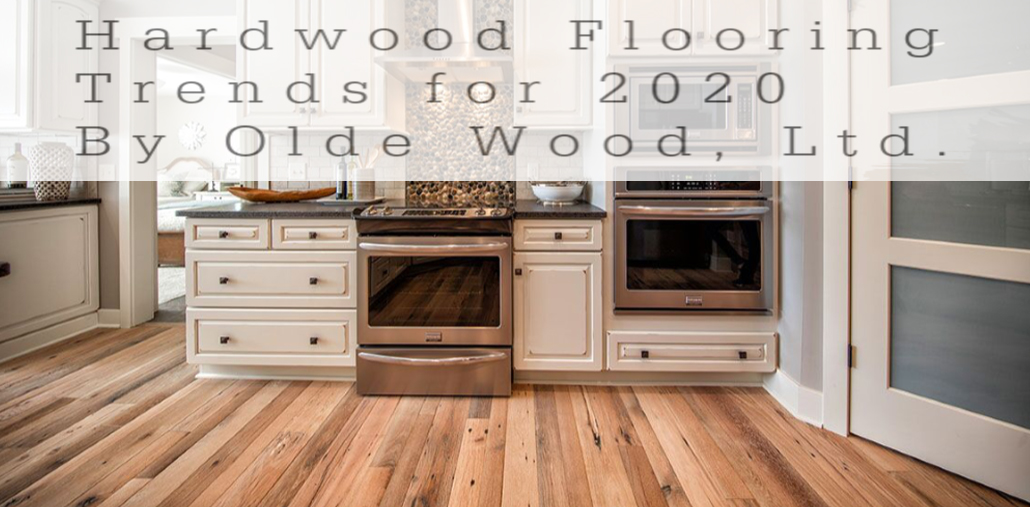 Hardwood Flooring Trends for 2020
Top Trends in Hardwood Floors for 2020
Hardwood flooring is timeless. While other trends come and go, hardwoods are here to stay. But that doesn't mean that hardwood floor trends remain the same. Each year, stunning new styles in colors, shapes, and sizes come out. And 2020 is no exception. Cool hues, light neutral tones, dark contrasts, and beautiful new versions of wide plank wood floors have arrived.
Farmhouse floors continue to be a trend. And engineered hardwood floors are still gaining momentum in popularity. With all these hardwood floor trends, what is the best wood floor to choose from? Ultimately, that depends on your own personal taste and style.
If one of these new trends in hardwoods strikes your fancy, give it a try. But don't be afraid to stick to a tried and true traditional style. At the end of the day, it's more about what brings you joy than anything else.
Now, here's what is trending in hardwood floors for 2020.
Trending Types of Hardwoods
Recycled materials, hardwoods that are easy to maintain, and those made here in America are all very popular in 2020. Farmhouse floors and wide plank floors also continue to be the floors of choice.
Reclaimed Wide Plank Wood Floors
Reclaimed wood flooring is flooring crafted from repurposed materials. This type of wood flooring has become increasingly popular for a number of reasons. It's sustainable, beautiful, and often has a rich history to it – or it should have a history.
But as Olde Wood's Tommy Sancic warns,
"The definition of reclaimed, according to the dictionary, is to recover in a pure or usable form from refuse, discarded articles, etc. That means that essentially anything can be reclaimed. If I took an almost new tire that someone discarded because it didn't fit their vehicle and put it on my truck, that just became a reclaimed tire. It's not particularly special or antique, but it is reclaimed."
If people want truly authentic, reclaimed wood, they should choose antique reclaimed wood. Antique reclaimed wood comes from old barns, stables and other buildings that are hundreds of years old.
Read more about the difference in reclaimed and antique reclaimed wood floors here.
Engineered Hardwood Floors
Engineered hardwoods have a wood veneer layer on top, so they aren't exactly solid hardwoods as this layer is generally made out of high-density fiberboard (HDF), plywood, or stone plastic composite (SPC). Homeowners like this type of hardwood flooring because it's a stable and versatile product that is more resistant to warping or buckling.
As the trend to use wood flooring in kitchens and even bathrooms continue, engineered hardwoods may be a trend that stays around for a while. What people should be aware of though, is that the life of these floors could be short in comparison to solid wood flooring if the wear layer is thin. The thicker the layer, the longer your floors will last.
Read more about about engineered hardwood here.
American-made Flooring
As with many other products these days, finding American made flooring is a popular trend. Today, people like to know where the goods that they buy are made and what is in them. And hardwood flooring is no exception.
Domestic production is also good for the economy. Manufacturing facilities like Olde Wood's 30,000 square foot facility in Magnolia, OH which produces wide plank floors, farmhouse floors, reclaimed hardwoods, and engineered wood in-house, help fuel the local economy by providing jobs to fellow Americans. And besides, people feel good about buying homegrown products.
Hardwood Floor Color Trends
The trend in colors this year is really all over the place. Warm tones like honey are making a comeback, yet cool tones like gray are here to stay. Both look stunning with wide plank wood floors. And then there is greige….
Gray and Greige Flooring
Gray flooring has been trending for several years now, but it's not going away. There are so many variances and shades. And people continue to love this look. The latest variety is greige, a mix of gray and beige. It's a nice compromise between rustic and modern – so it fits well with a variety of tastes and styles. Plus, it's great for resale.
Whitewashed Wood Floors
Whitewashed flooring was once reserved for coastal areas like California, but not anymore. The whitewashed hardwood flooring trend is moving across the country. Today's whitewashed hardwood floors have a more subtle character and matte look than those of the past. And they look equally as stunning in beach bungalows as they do farmhouse kitchens.
Honey Hardwoods
Unlike the cool tones of gray, honey floors are a warm and rich classic look that is becoming increasingly popular. It's darker than the whitewashed look, but still light enough to make a room feel spacious and airy. It's also a very natural tone that is easy to find with different wood species.
Textures to Look for in 2020
Not only do you have options in color, but there are also textures to choose from. And the most popular wood floor textures are distressed, reclaimed, and wire brush. Each one of these is similar in some ways, but they all have their own unique characteristics.
Distressed Floors
Distressed wide plank wood floors have an aged, antique look. Knots, wormholes, and knots are often visible. It is a popular texture that offers a lot of character and style. But the downside to distressed wood floors is that many times the distressing is not natural but manufactured. So in most cases, distressed wood is new wood made to look old and rich in character.
Handscraped Wood Flooring
Another popular trend, similar to distressed is handscraped wood flooring. Handscraped wide plank floors have a high variation between the planks and long-ingrained scrapes - which gives them a unique, custom look. This trend is a familiar one, but it isn't going away anytime soon. Handscraped floors look expensive and they add value to a home.
Wirebrushed Wood Floors
Wirebrushed hardwood floors have a weathered look because of their intentional wire scratches. But they are a little smoother look than the other two popular texture trends. Because they are smoother, you get a little more finished look, which many people like. However, these wide plank floors still add character and they hide dirt well.
Hardwood Flooring Finishes
When it comes to hardwood flooring finishes, shine is a thing of the past. Flatter finishes are the trend these days in both pre-finished and site finished flooring.
Matte Finish
A matte finish on wide plank floors is trending more these days than the standard satin finish. If done right, your wood floors will be stunningly beautiful. But be sure to use a high-quality finish. Otherwise they may look dull and flat.
Oil Finish
An oil finish on your farmhouse floors, wide plank floors, or any other style of wood floors gives them a nice, organic feel – which is one of these reasons it's a popular trend. The oil soaks into your hardwood floors penetrating each layer making it stronger and more durable.
Conclusion…
What's great about hardwood flooring is that there are so many different options to choose from in materials, colors, finishes…the list goes on. But it can also feel overwhelming. This is your home we're talking about – a place that you spend time in every day and will for many years to come.
Whether you have a general idea of what you want in a floor, or you are starting from scratch, it's best to do your research or speak with a professional flooring expert who can help you figure out what would be the best fit for your home.
At Olde Wood Limited, we are a family-owned and operated business, and we always have been. We truly care about your project and are here to help you in any way that we can. We don't just "dabble" in hardwood flooring, we are the experts in reclaimed and wide plank wood floors.
We have showrooms throughout the U.S. and ship to most places all over the world. Read here why we are different from other hardwood flooring businesses, then let us help you with your next flooring project.
Give us a call at 1-866-208-9663 or use this link to send us a note. We'd love to hear from you!