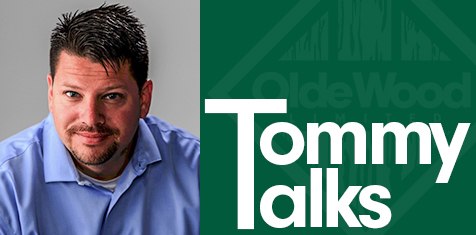 Tommy Talks: Reclaimed vs. Antique Reclaimed
A few times each week Olde Wood Limited Owner Tommy Sancic sends out an audio recording of encouragement and education to employees. The following excerpt is a transcript of this week's "Tommy Talks".
I just wanted to begin by reiterating that I appreciate each and every one of you. We are blessed with some of the most talented and passionate people in our industry.
I believe that we may have a little bit of confusion in the market right now because reclaimed wood has become very popular. Just about every restaurant you patronize, every airport you fly in to, or larger city you visit, you're going to see a piece of reclaimed wood somewhere. I always point out the fact that yes, it's reclaimed, but it's not authentic. What I mean by that is REAL reclaimed wood, what we refer to as antique reclaimed. Wood that comes from a hundred-year-old and older buildings.
Those buildings were built by settlers that came to build our farming industry 100, 200, or even 300 years ago. The wood that was available at that time was standing in the forest which they had to identify and cut down. A lot of that wood was virgin growth, first cut material. It is stronger, more dense, has a stronger woodgrain appearance, and has tighter growth rings. It has a slightly different color. Much of that wood was 300 to 400, maybe even 500 years old by the time they cut it down. Then it stood in that barn as framing and siding for 100 hundred to 200 years.
I want consumers to know we sell the real thing. Authentic, reclaimed lumber. Not fake, not repurposed, not just reclaimed. The definition of reclaimed, according to the dictionary, is to recover in a pure or usable form from refuse, discarded articles, etc. That means that essentially anything can be reclaimed. If I took an almost new tire that someone discarded because it didn't fit their vehicle and put it on my truck, that just became a reclaimed tire. It's not particularly special or antique, but it is reclaimed.
Throughout the Rocky mountains, highway engineers have to block snow from drifting over the highway. The wood they use for snow fencing is reclaimed every 3 to 4 years. They put new wood up, let it grey out, take it off, put new wood back up. We compete in that market day in and day out but ours is truly is different. Our material is authentic. It has a story to tell. It took 100 to 200 years of hard work to get it to look the way it does. We have a product like the snow fence which is called Greyboard. Our Greyboard is farmed here in Magnolia, Ohio. I developed it several years ago to give an option to the customer that wanted exactly all grey because most barn wood is not all grey. 2, or 3 sides of the barn will be grey. The other side of the barn could be grey or brown or it could have brown streaks in it. That is typical of reclaimed lumber. It's very rare to get a solid grey barn because of the way that it's built. It's generally built into a square or rectangle and the sun rises to the East and sets in the West. Therefore when it rains, the wood dries out faster on the sunnier sides and less quickly on the other sides of the barn. This creates a different shade of color. Grey is created by oxidation. Oxidation is created by the sun, rain, humidity and moisture.
I thought that this was very important because people are confused when they say reclaimed. When people say, "I could get reclaimed barn wood for $4 per foot", so can we. But it's not authentic AND heat treated, power washed, and inspected by 30 to 40 people to make sure that there's no lead or contaminants in it. Over the last 25 years of doing business, we have learned the best practices for reclaiming barn wood and have implemented processes to make sure that those harmful things get eliminated.
Sure, we could cheat and duplicate the look with stains, but it's not authentic. It truly is a unique and beautiful product.
Thanks for listening, have a great week everyone!