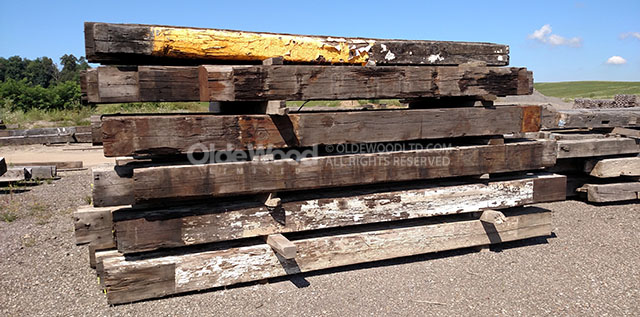 Where Our Reclaimed Wood Comes From
Reclaimed wood has a longer history and a more interesting story than most other wood products. Because of this, one of the questions we are frequently asked is, "Where does your reclaimed wood come from?"
This question, though, is somewhat difficult to answer because each piece of Reclaimed Antique wood is unique and its origin varies. The quick answer is Reclaimed Antique wood grew in the old-growth forests that covered the country before the 1900s and then was used to build agricultural and industrial structures from the late 1800s to the early 1900s. When those timeless structures outlive their purpose, they are dismantled. We reclaim the wood to turn it into beautiful wide plank flooring and other reclaimed building materials. Although, this is only the tip of the iceberg.
---
A Story That Begins in the Forests
The story of Reclaimed Antique wood begins in the forests hundreds of years ago. When the colonists first settled in the United States, the country was covered in forests from coast to coast. Today, these forests are referred to as the old-growth forests. The trees in the old-growth forests were hundreds of years old and grew to their biggest possible sizes, with only the forces of Nature to disturb them. A few old-growth forests still remain today, but they are extremely rare and heavily protected. Trees planted since then have still not had time to grow like the trees before them so the strength and beauty of Reclaimed Antique wood is unmatched by other types of wood available on the market today.
The lumber was a valuable resource to the settlers, as they needed the extremely hard, strong, straight, and readily available wood to build their agricultural and industrial buildings. Depending on the type of building and where it was located, different species were used for different purposes.
---


Reclaimed Antique Wood From Agricultural Structures
Agricultural structures were immensely important to settlers, as they were necessary for successful farming. Barns were so critical, their construction often took precedence the building of homes. Different barn structures can be found all over the United States, and their shapes say a lot about the type of farming they were built for and the background of the community in which they were built. Barns were also constructed differently depending on their location because to build them, farmers cleared their plots of land and used whatever mixed species of trees were on that land to construct them. This is often called the "100 Tree" theory. The biggest, strongest, and straightest trees were used for the barn's structural elements, such as the beams. The smaller or softer woods were used for other components of the barn, such as its posts, joists, floorboards, and lofts. Barns were frequently built using Hickory, Oak, Pine, Wormy Chestnut, Walnut, and Maple.
---


Reclaimed Antique Wood from Industrial Structures
While agricultural structures used a variety of species, distinct species were needed to build industrial buildings. Industrial structures were frequently built during America's Industrial Revolution from the late 1800s until the 1920's using Douglas Fir, Heart Pine, and Maple. These species were more abundant in some regions than others, so the wood was regularly transported. Douglas Fir came from the West, while Heart Pine came from the Southeast. Maple was used as a factory flooring to protect the thicker decking of Heart Pine and Douglas Fir underneath.
---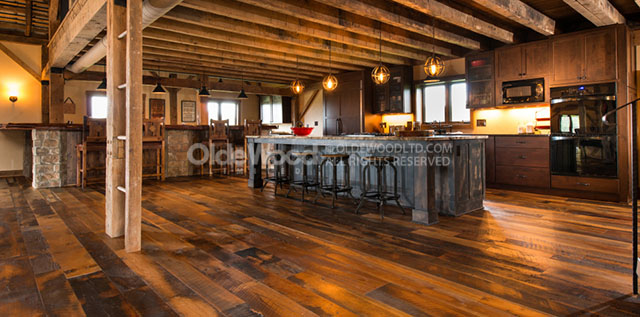 As the agricultural and industrial structures of the past outlive their purpose, they are dismantled and we reclaim the centuries-old wood. We manufacture our Reclaimed Antique Wide Plank Flooring, Barn Siding, Beams, and Fireplace Mantels using the beams, floor boards, posts, decking, siding, and roof boards from the old structures.
Design trends continually move to the natural look of wood and the value of sustainability, making the question of where Reclaimed Antique wood comes from increasingly important to ask in order to fully understand the material you are purchasing. Authentic reclaimed materials can be costly to obtain, so some suppliers shy away from it in exchange for more resourceful materials, such as pallet wood or wood from structures built in the mid-1900s. These materials are not as strong as the old-growth timber reclaimed from structures built in the late 1800s and early 1900s. The materials also aren't available in board lengths as long or board widths as wide as true Reclaimed Antique materials.
Using authentic Reclaimed Antique wood allows us to prevent the wood from ending up in landfills and gives us the ability to provide you with stunning, historical, rare, and one-of-a-kind products for your next residential or commercial project. The variance of Reclaimed Antique wood in its time-earned characteristics is a testimony that true beauty comes with age.