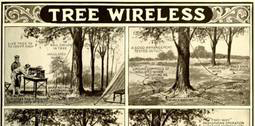 When Trees Talk
When Trees Talk
What do trees, Muzak®, and early military communication have in common? Major General George O. Squier, Chief Signal Officer, U.S. Army
In the early dawn of the 20th century, a man by the name of Major General George Owen Squier developed a system to make the trees talk. Stationed at Camp Atascadero in California as Chief Signals Officer, Squier found himself cut off from everyone due to the uncooperative weather in the dry desert which made his Army-issued buzzer telegraph and telephone kits useless. The telegraph and telephone kits required moisture to operate, which was lacking; so he got creative and used what resources he had available to communicate: trees.
By wiring the kits to a nearby tree---using a long, insulated wire, nailed two-thirds of the way up the trunk, attached to a receiver and grounded by a few more wires buried in a radial configuration around the roots---messages came through easily.
His first communication a distance of three and a half miles and one year after his first experiment, in 1905, he obtained a patent for "Tree Telephony and Telegraphy".
Though it would be nearly a decade before Squier came up with a more popular name for his device, he continued pursuing his work as an inventor and engineer. But, as WWI got into full swing, his arboreal experiment would prove to be more useful in the military communications arena and would fuel his desire to convince the military the secret to winning wars was radio telegraphic communication and the Squier's "floraphone" system was put to the test.
In the woods outside Washington, D.C., he configured an army radio to use the tree as a huge antenna by laying wire netting beneath a tree and connected insulated wire to a nail in the trunk. It worked! Now, instead of just three and a half miles away, he could hear communications from 4,000 miles away. He was getting information streamed from Nauen Transmitter Station in Brandenburg, Germany--- through an oak tree.
After the war and Squier's resounding success with the "floraphone", a reporter from the Scientific American became so enamored of the system he wrote about the numerous communication possibilities: messages transmitted through trees (floragrams), a network of tree telephones (floraphones), and a tree telegraph (floragraph).
A Popular Science reporter predicted an era of connectedness using floraphone stations to keep up with everything from news to sports scores and available to anyone who needed to make quick human contact, provided they near a "good-sized tree". Today, we call it Facebook.
Yet, with all its successes and potential, the floraphone was short-lived, soon outpaced by more portable antennae. But, is still used from time-to-time by ham radio enthusiasts, jungle platoons, and eco-art collectives because though the floraphone is short-lived, the technology is still sound.
Squier himself sums his invention up best in 1919, "All through the ages there is shown in literature a feeling of reverence, sympathy and human intimacy with trees. It is significant that this practical thing possessing utility and natural strength, architectural beauty of design, and endurance far superior to artificial structures prepared by man, should be able yet further to minister his needs".
Perhaps the telephone poles dotting our landscape are not only the floraphone system of a bygone era, but a nod to our resourceful natures utilizing one of our greatest resources.
http://www.atlasobscura.com/articles/the-world-war-i-plan-to-turn-americas-trees-into-telephones
https://eandt.theiet.org/content/articles/2016/10/major-squier-the-man-who-made-the-trees-talk-and-changed-radio-forever-with-his-floraphone/