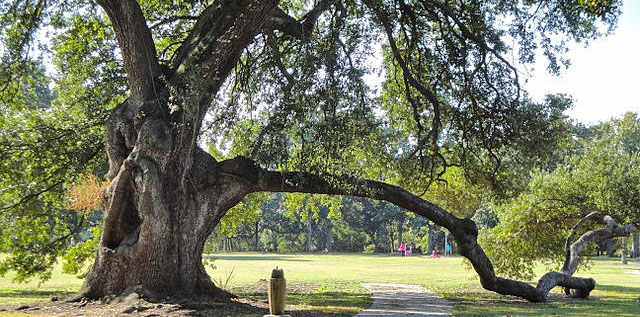 The Oaks of New Orleans
Anyone who has ever been to New Orleans knows its residents are a very impassioned people. While the revelry has always been displayed proudly on the city's streets, the despair and anger of the people was contained to a grove of enormous Oaks in what is now New Orleans City Park. It was the darker side of their passion that mixed legend and sorrow among these majestic Southern trees – creating a few very morbid landmarks.
One of these trees had a certain appeal to those who wanted to end their lives. Within a span of twelve years in the 1800s, sixteen men took their lives beneath the same tree. This tree (pictured above), came to be known as the Suicide Oak.
Not far away from the Suicide Oak was a pair of Oaks known as the Dueling Oaks. As you probably guessed, this is where those who were offended defended their honor with duels. Scarcely did a day pass in the 19th century without the trees witnessing a challenge. According to New Orleans papers, one Sunday alone in 1839 saw ten consecutive duels. Although laws against dueling were passed in 1855, it was not until 1890 that the last known duel was fought beneath the legendary Dueling Oaks.
The people of New Orleans chose their trees wisely, as the mighty Oak is one of the few trees whose strength matched their passion.