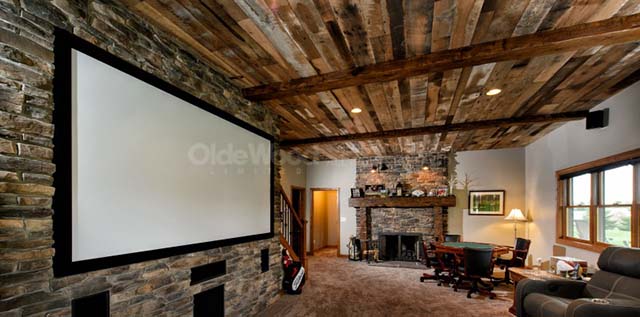 Project Spotlight - Lower Level Remodel with Reclaimed Hardwoods
Reclaimed wood and traditional hardwood are often thought of as flooring options, but these products can serve as other beautiful design elements in residential and commercial projects. For example, our Reclaimed Antique and Traditional Plank wide plank flooring can be used as wall or ceiling treatments . If you have ever seen our wide plank flooring and thought to yourself, "Wow, that would make a stunning ceiling," - the sky is the limit!
An Ohio family had similar thoughts for their lower level remodel, and now the room is a beautiful space for entertaining, as you can see from the image above. The built-in projection screen can entertain guests as they relax in custom theater chairs and have appetizers in the second kitchen. But, it's the room's ceiling and hardwood accessory details that transform guests' reaction to the room from "cool!" to speechlessness.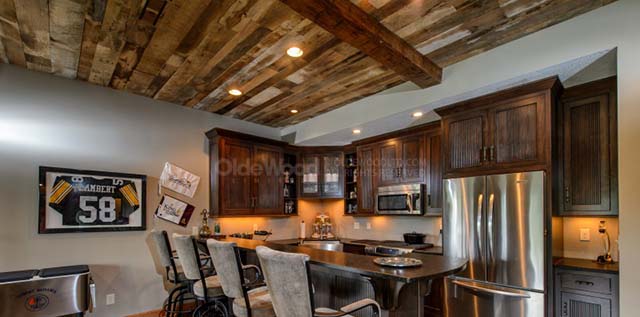 Unfinished Reclaimed Antique Historic Plank Hardwood, a blend of reclaimed woods, was installed as a ceiling treatment for the lower level. The hardwood's rich mixture of character, which can include features such as saw marks, nail holes, sound knots, natural checking, and color and texture variation, sets its beauty apart.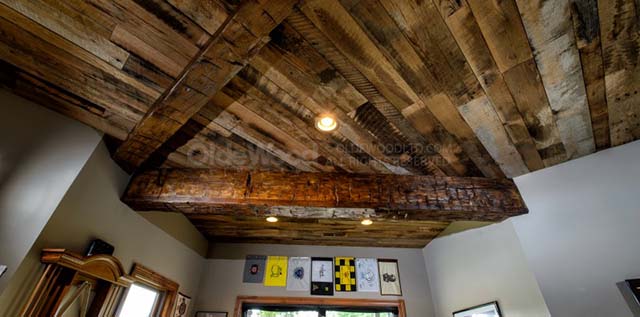 This project features three- and four-sided timbers, as well as hand-hewn skins to give the ceiling extra design details. The beams and timbers were finished with a Rustic Pine Briwax to compliment the color variations in the Reclaimed Antique Historic Plank hardwood.
In addition, a stunning four-sided hand-hewn mantel (shown in the first image), which was also finished in Rustic Pine Briwax, is showcased. It's amazing how something as simple as an antique barn beam mantel can add so much character and warmth to a living space.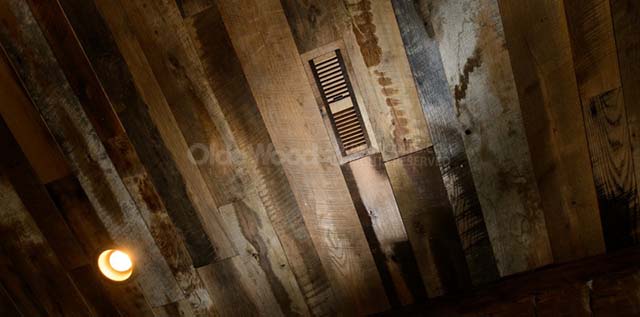 Finally, this hardwood experience included custom flush mount and frame Reclaimed Antique Historic Plank wooden vents. The combination of hardwood in this space accentuates the complimentary details from each element, but the additional design contributed by the vents is what gives this hardwood experience its completed look.
Check out this gallery to be further inspired by other ceiling treatment projects. Or if you've decided you need wood on your walls, give us a call at 866-208-9663 to get more information and begin your project!