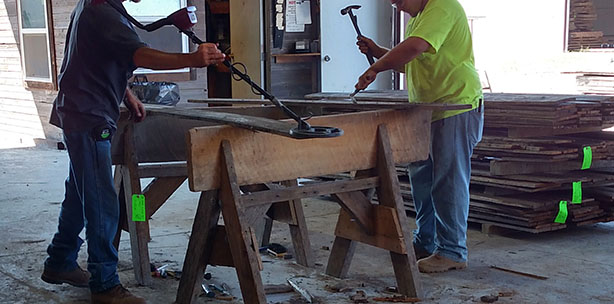 Our Defecting Process - An Olde Wood Advantage
There are many avenues to purchase wide plank flooring and reclaimed wood products. However, not every product's quality is the same, often because of the product's manufacturing process and standards. Premium manufacturers take many steps to remove product defects and ensure their customers are receiving the best materials. We inspect our products at every step of manufacturing, so our defecting process consists of 17 - 20 steps depending on the product! Below are just a few highlights of this process we would like to feature.
---
1. Denailing
During our first manufacturing step, we remove nails and other metal that may be found in the wood by hand. This level of first-hand inspection allows us to evaluate each piece of wood to confirm it is in the best shape possible. For example, wood with mold, excessive cracks, or unsound checking is discarded.
---
2. Kiln-drying Materials
All of our wood materials are kiln-dried before they are milled. Kilns are essentially large ovens that allow control of temperature, airflow, and humidity. There are many different types of kilns, but we use a dehumidification kiln because it is more energy efficient and effective. Dehumidification kilns use a heat pump system that recycles the heat it produces. The heated air (which reaches an optimal temperature of 160 degrees) is circulated over the lumber with fans, allowing the water contained in the wood to evaporate and make the wood's moisture content level a consistent 6 % - 8%. The wood is also kiln-dried to stabilize it and guarantee defects such as insects or mold are eliminated.
---
3. Milling
We use state of the art technologies and machinery to precisely mill our wide plank flooring and other milled reclaimed wood materials. The molding process mills the wood to precise width and length specifications. Molded products are accurate within 10,000th of an inch. Although we use modern machinery, our skilled craftsmen with decades of knowledge operate the machines. They inspect the wood throughout the milling process to ensure all products meet our quality standards.
---
4. Packaging
In one of our last steps, we package our products and prepare them for shipping. This process is done by hand which allows for an inspection of orders one final time before leaving our facility. We package our products very carefully to try to prevent damage during shipping.
These steps are just a few of the many measures we take to be sure our products meet our high-quality standards. If you would like to learn more about these or some of our other defecting processes, just give us a call at 866-208-9663 or ask in the comments below.