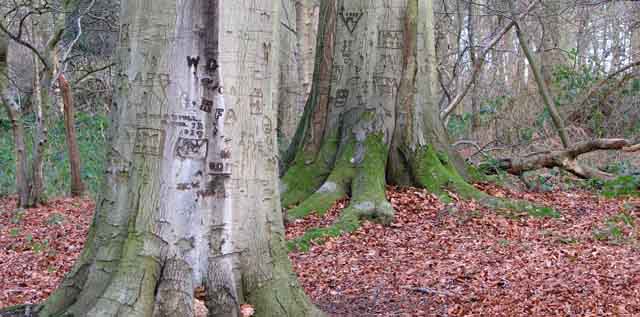 D. Boone Kilt a Bar
The American Beech Tree is a staple of the Eastern forests. Its smooth, silver bark provides beauty and variety to forest canopies and its rock-hard timber is a coveted resource.
The notable tree is also sometimes used as a canvas by those with pocket knives who wish to commemorate their memories.
Hearts with initials in them are commonly seen carved into the bark of Beech trees near walking trails, but as it turns out, this tradition is nothing new. It belonged to fearsome hunters long before it belonged to summer lovers.
In the pioneer days, the bark of Beech trees was used to brag about successful hunts. The hunter's name, what impressive beast he had killed, and the year were often carved into the nearest Beech. One such trophy carving was found in the forests of Louisville, Kentucky, and it read: "D. Boone Kilt A Bar, 1803."
Legend has it, that none other than Daniel Boone single-handedly killed a bear under this tree. The problem is that another carving found in Tennessee claimed that Daniel Boone had killed a bear underneath it in 1760. Other "D. Boone Kilt A Bar" carvings have been found throughout the frontier that Boone traversed.
Daniel Boone may indeed have killed all those bears and carved all those trees--or the forests might just be riddled with forgeries.
One thing is for certain: whether it's the dead bear beneath his feet or the lovely girl on his arm, as long as man has wandered the woods with a pocket knife, he has done his bragging on the Beech.
Image by Evelyn Simak [CC BY-SA 2.0 (http://creativecommons.org/licenses/by-sa/2.0)], via Wikimedia Commons