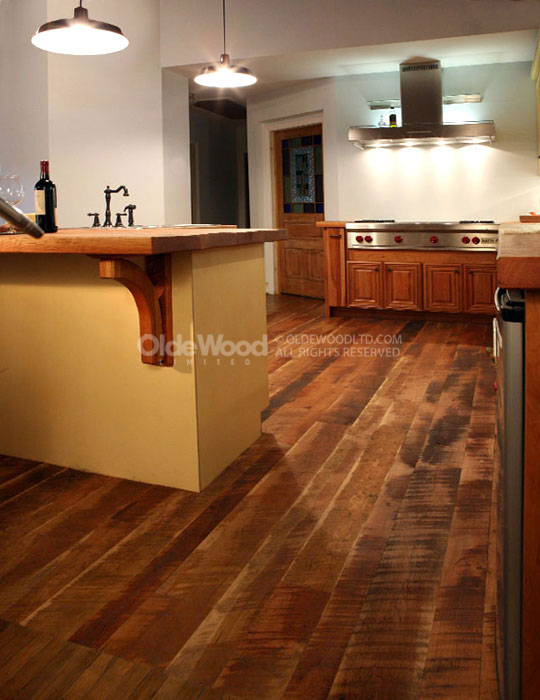 View Pioneer Cherry Gallery
Finish Options:
Traditional Plank Flooring
Pioneer Cherry
To create our rustic, Pioneer Cherry we run our cherry hardwood planks through an antique, 60-in. saw blade to replicate the rustic look of early milling. With stunning red-brown tones, accented by pale brown and pink sapwood, this cherry wood flooring will lend itself perfectly to any room where you want to create a traditionally aged, yet elegant atmosphere.
Distinctives of Traditionally Milled Pioneer Cherry Flooring
Live-sawn through and through from fully matured and responsibly harvested cherry trees, our Traditional Pioneer Cherry flooring features saw and kerf marks, tight flowing grain and larger than usual lengths and widths. With age, our Pioneer Cherry flooring can darken a bit with exposure to UV light (which is normal of all cherry flooring products).
Specifications

Engineered Flooring Specifications

WIDTHS: 3" to 10"
LENGTHS: 2' to 12'
THICKNESS: 5/8" (3/4", 11/16" available)
AVAILABLE FINISH: Unfinished, UV Pre-finished, Natural Oil Pre-Finished
SURFACE & CUSTOM OPTIONS: Wire Brushing, Beveled Edge, Hand-Scraping, Same Width Planks, End Matching up to 10"

Solid Flooring Specifications

WIDTHS: 3" to 12"
LENGTHS: 2' to 12'
THICKNESS: 3/4", 5/8", 1/2", 3/8"
(5/8" up to 8" only), (1/2" up to 6" only), (3/8" up to 4" only)
AVAILABLE FINISH: Unfinished, UV Pre-finished, Natural Oil Pre-Finished
SURFACE & CUSTOM OPTIONS: Wire Brushing, Beveled Edge, Hand-Scraping, Same Width Planks, End Matching up to 12"

Accessories