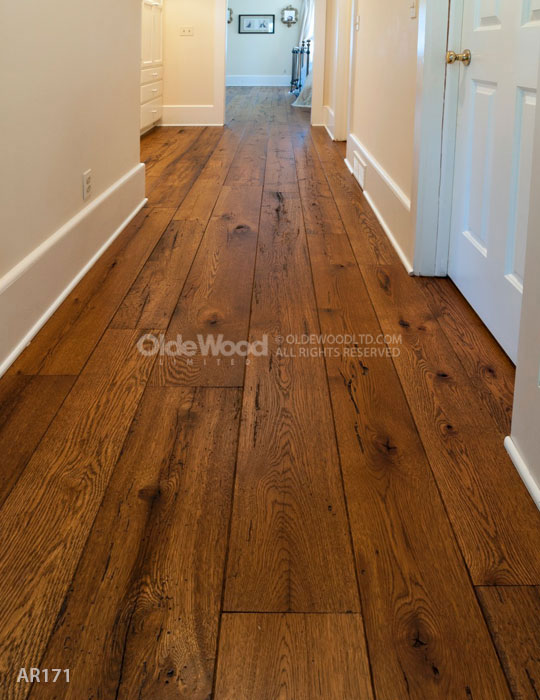 View Antique Resawn Oak Gallery
Finish Options:
Reclaimed Wide Plank Flooring
Antique Resawn Oak
The strength, durability, and availability of the massive oak trees that populated the early American forests made it the go-to timber for barn and granary construction. The mighty Oak is as much a part of Americana as the barn itself. These planks are resawn from authentic reclaimed Red and White Oak barn beams, resulting in cleaner, more uniform planks than that of a usual reclaimed oak floor.

Distinctives of Antique Resawn Oak Flooring
Our Antique Resawn Oak hardwood wide plank flooring features a moderate, authentic mix of sound checking, sound cracks, knots and insect holes/tracks, together with same strength, durability and wear-resistance as our other reclaimed oak options.
---
Specifications

Engineered Flooring Specifications

WIDTHS: 3" to 11"
LENGTHS: 2' to 12'
THICKNESS: 5/8" (3/4", 11/16" available)
AVAILABLE FINISH: Unfinished, UV Pre-finished, Natural Oil Pre-Finished
SURFACE & CUSTOM OPTIONS: Wire Brushing, Beveled Edge, Hand-Scraping, Same Width Planks, End Matching up to 11"

Solid Flooring Specifications

WIDTHS: 3" to 12"
LENGTHS: 2' to 12'
THICKNESS: 3/4", 5/8", 1/2", 3/8"
(5/8" up to 8" only), (1/2" up to 6" only), (3/8" up to 4" only)
AVAILABLE FINISH: Unfinished, UV Pre-finished, Natural Oil Pre-Finished
SURFACE & CUSTOM OPTIONS: Wire Brushing, Beveled Edge, Hand-Scraping, Same Width Planks, End Matching up to 12"

Accessories