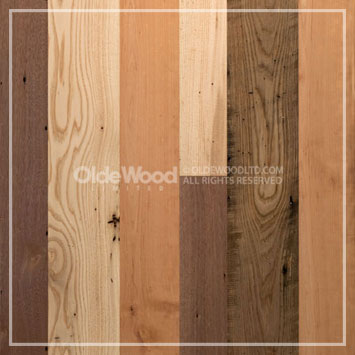 DESCRIPTION
The spirit of hard work, success and years of accomplishment are woven in the grain and beauty of our rarest hardwood offering, Antique Trophy Room. Built piece-by-piece from the finest and most rare hardwoods, this floor will delight the flooring connoisseur and offer a well-deserved commendation to a lifetime of successful ventures. This high end custom product consists of rare antique cherry hardwood with its rich color and extraordinary tight grain pattern; the sophisticated elegance of rich, antique walnut; priceless pieces of antique wormy chestnut and our ever-popular, Antique Oak.
Along with the distinctiveness and rarity of each flooring plank comes distinguishing features such as original saw marks, nail holes, sound cracks and a deep patina earned from years of exposure.
NOTE: Due to availability, lead times may be longer than normal.
ENGINEERED WOOD FLOORING

WIDTHS: 3"-8" random widths (Custom Widths Available)
LENGTHS: 2' & longer (up to 12') random lengths
THICKNESS: 3/4" Standard
FINISH TYPE: UV Cured Natural Oil or Matte (Custom Finishes Available)
CUSTOM OPTIONS: Wire Brushing, Beveled Edge, Hand-Scraping, Same Width Planks, End Matching up to 11"


SOLID WOOD FLOORING

WIDTHS: 3"-8" random widths (Custom Widths Available)
LENGTHS: 2' & longer (up to 12') random lengths
THICKNESS: 3/4" Standard
FINISH TYPE: UV Cured Natural Oil or Matte (Custom Finishes Available)
CUSTOM OPTIONS: Wire Brushing, Beveled Edge, Hand-Scraping, Same Width Planks, End Matching up to 12"


---

0% Interest & Custom Financing Programs Available!

0% to 18 Months & Other Options Available – Ask Your Design Specialist For Details.

---