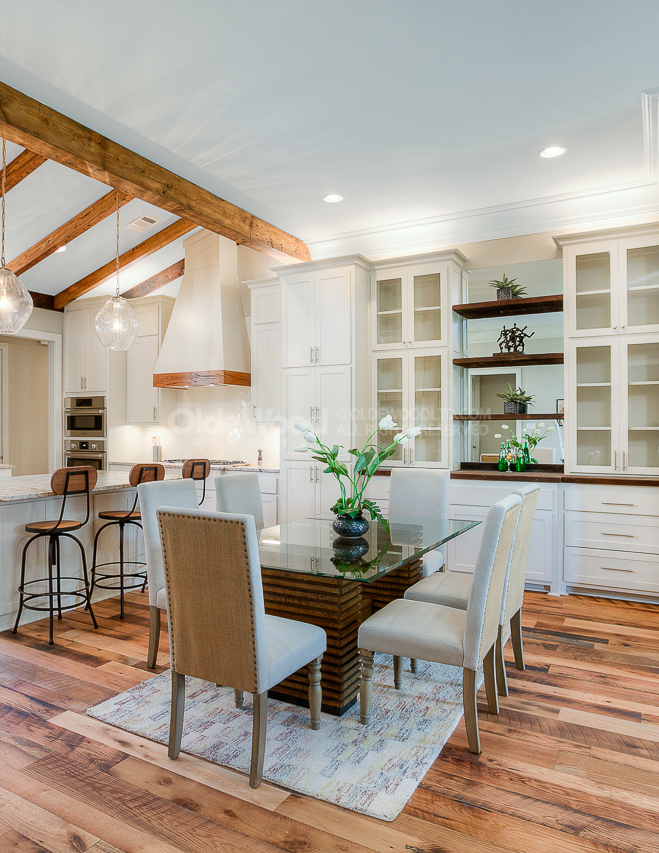 View Antique Oak Hit-Skip Gallery
Finish Options:
Reclaimed Wide Plank Flooring
Antique Oak Hit-Skip
The strength, durability, and availability of the massive oak trees that populated the early American forests made it the go-to timber for barn and granary construction. The mighty Oak is as much a part of Americana as the barn itself.

Meticulously curated from the reclaimed joists, rafters, granary boards, siding and floor-boards of old barns and other historic wooden structures, reclaimed Antique Oak Hit-Skip flooring presents a reclaimed oak experience that preserves much of the original rustic surface textures while simultaneously revealing the beauty of the raw virgin timber underneath..
Distinctives of Antique Oak Hit-Skip Flooring
A combination of white and red oak, Antique Oak Hit Skip flooring is characterized by a mixture of original distressed surfaces and revealed smooth surfaces, original nail holes, sound cracks, checking, and wormholes. It presents a variety of rustic colorations and surfaces, with varying grain patterns and tight knot structure. All white oak or all red oak available upon request.
Specifications

Engineered Flooring Specifications

WIDTHS: 3" to 10"
LENGTHS: 2' to 12'
THICKNESS: 5/8" (3/4", 11/16" available)
AVAILABLE FINISH: Unfinished, UV Pre-finished, Natural Oil Pre-Finished
SURFACE & CUSTOM OPTIONS: Wire Brushing, Beveled Edge, Hand-Scraping, Same Width Planks, End Matching up to 10"

Solid Flooring Specifications

WIDTHS: 3" to 12"
LENGTHS: 2' to 12'
THICKNESS: 3/4", 5/8", 1/2", 3/8"
(5/8" up to 8" only), (1/2" up to 6" only) (3/8" only available in light hit-skip up to 4")
AVAILABLE FINISH: Unfinished, UV Pre-finished, Natural Oil Pre-Finished
SURFACE & CUSTOM OPTIONS: Wire Brushing, Beveled Edge, Hand-Scraping, Same Width Planks, End Matching up to 12"

Accessories