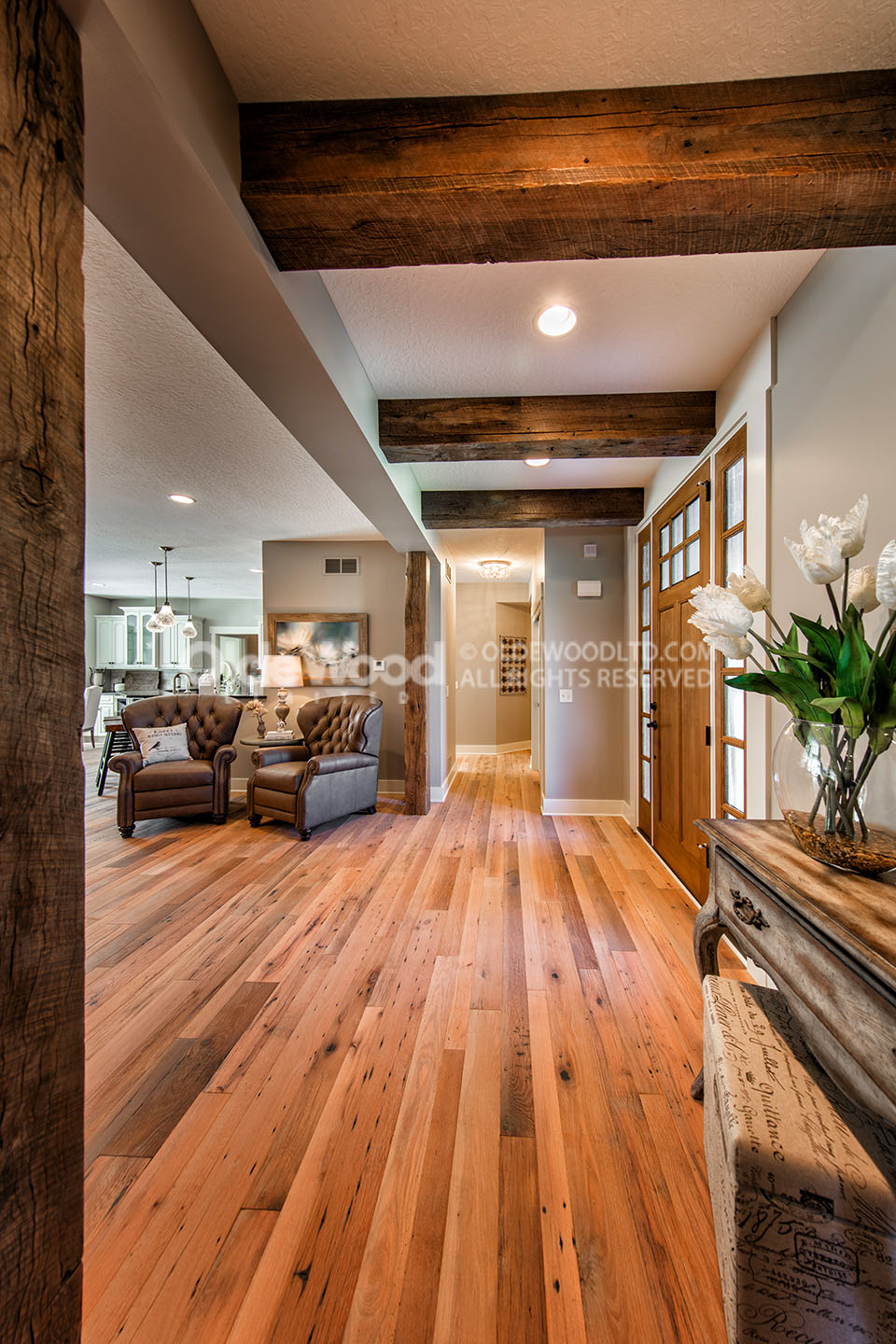 View Antique Oak Flooring Gallery
Finish Options:
Reclaimed Wide Plank Flooring
Antique Oak Flooring
The strength, durability, and availability of the massive oak trees that populated the early American forests made it the go-to timber for barn and granary construction. The mighty Oak is as much a part of Americana as the barn itself.
Meticulously curated from the reclaimed joists, rafters, granary boards, siding and floor-boards of old barns and other historic wooden structures, reclaimed Antique Oak flooring presents the most complete reclaimed oak experience by showcasing the many patinas and colorations the fabled timber developed in its various structural uses.
Features of Antique Oak Flooring
A combination of white and red oak, Antique Oak flooring is characterized by original saw marks, nail holes, sound cracks, checking, and wormholes. It presents a variety of rustic colorations and surfaces, with varying grain patterns and tight knot structure. All white oak or all red oak available upon request.
Specifications

Engineered Flooring Specifications

WIDTHS: 3" to 11"
LENGTHS: 2' to 12'
THICKNESS: 5/8" (3/4", 11/16" available)
AVAILABLE FINISH: Unfinished, UV Pre-finished, Natural Oil Pre-Finished
SURFACE & CUSTOM OPTIONS: Wire Brushing, Beveled Edge, Hand-Scraping, Same Width Planks, End Matching up to 11"
Engineered Antique Oak will have less contrast between light-colored and dark-colored boards and its color will be overall lighter than solid Antique Oak. Our Design Specialists can answer any questions you may have about these variations.

Solid Flooring Specifications

WIDTHS: 3" to 12"
LENGTHS: 2' to 12'
THICKNESS: 3/4", 5/8", 1/2", 3/8"
(5/8" up to 8" only), (1/2" up to 6" only), (3/8" up to 4" only)
AVAILABLE FINISH: Unfinished, UV Pre-finished, Natural Oil Pre-Finished
SURFACE & CUSTOM OPTIONS: Wire Brushing, Beveled Edge, Hand-Scraping, Same Width Planks, End Matching up to 12"

Accessories

Matched Wooden Accessories