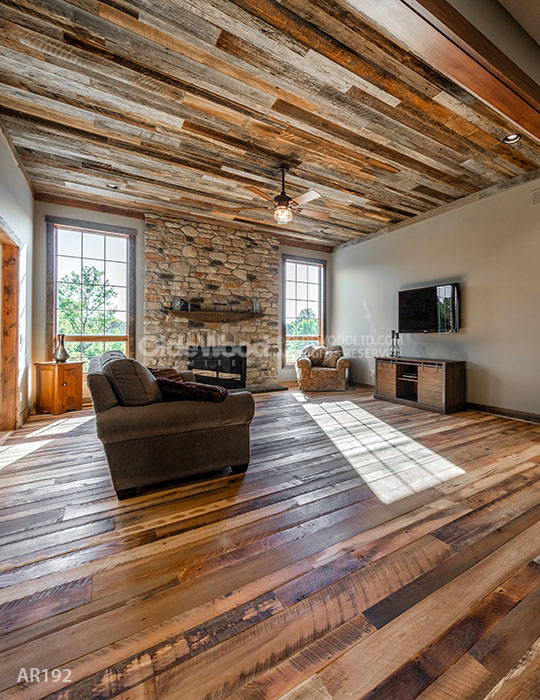 View Antique Historic Plank Gallery
Finish Options:
Reclaimed Wide Plank Flooring
Antique Historic Plank
Harvested from century-old barns and wooden industrial structures, this floor transforms a room into a living history lesson filled with character marks earned from years of faithful use. With a rich mixture of reclaimed hardwoods, saw marks, natural checking, color and texture, this floor is unmatched in its ability to attract attention. The perfect solution for a truly unique floor, wall or ceiling treatment.
Distinctives of Historic Plank Flooring
Our Antique Historic Plank flooring boards will feature a blend of band/circular saw marks with a rich mixture of grain and varied light/dark colors. As with all reclaimed hardwood flooring, expect a pronounced appearance of sound knots, cracks, saw kerfs, insect marks and nail holes.
---
Specifications

Engineered Flooring Specifications

WIDTHS: 3" to 10"
LENGTHS: 2' to 12'
THICKNESS: 5/8" (3/4", 11/16" available)
AVAILABLE FINISH: Unfinished, UV Pre-finished, Natural Oil Pre-Finished
SURFACE & CUSTOM OPTIONS: Wire Brushing, Beveled Edge, Hand-Scraping, Same Width Planks, End Matching up to 10"

Solid Flooring Specifications

WIDTHS: 3" to 12"
LENGTHS: 2' to 12'
THICKNESS: 3/4", 5/8", 1/2", 3/8"
(5/8" up to 8" only), (1/2" up to 6" only), (3/8" up to 4" only)
AVAILABLE FINISH: Unfinished, UV Pre-finished, Natural Oil Pre-Finished
SURFACE & CUSTOM OPTIONS: Wire Brushing, Beveled Edge, Hand-Scraping, Same Width Planks, End Matching up to 12"

---

Accessories