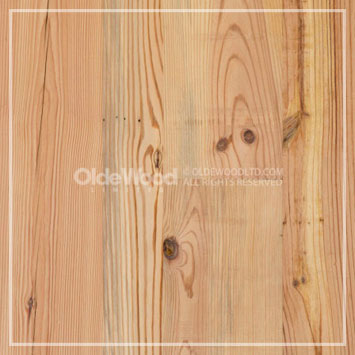 DESCRIPTION
The deep character of our Antique Heart Pine reclaimed flooring – with its nail holes, checking, knotholes and other characteristics – is a testament to reborn history. From the late 1800s to the 1920s, industrial structures sprang up across the American landscape as the Industrial Revolution powered our nation forward. Wood planks milled from Douglas Fir, heart pine, and maple were popular choices for factory flooring. Our reclaimed heart pine flooring is crafted from the reclaimed beams and floor boards of the factories and mills that came to define the era.
Heart pine floors are remarkable for their tight grain and tawny coloring, often amber in color, that yellows as it ages. Unmistakable softness and warmth give heart pine floors a "rustic lodge" feel that infuses any space with a sense of wilderness. Our Common Grade heart pine flooring features a heavier mix of knots and other natural character markings compared to the more uniform appearance of our Select Grade flooring.
Durability is a hallmark of reclaimed heart pine floors. Pine is a soft wood and tends to be far more easily worn by use than hardwood styles. Despite this characteristic, heart pine floors will outlast most homes – it'll be there as your children grow, as guests come and go, and as you accumulate memories in your home.
ENGINEERED WOOD FLOORING

WIDTHS: 3"-6" , 4"-8" or 6"-10" random widths (Custom Widths Available)
LENGTHS: 2' & longer (up to 12') random lengths
THICKNESS: 3/4" Standard
FINISH TYPES: UV Cured Natural Oil or Matte (Custom Finishes Available)
CUSTOM OPTIONS: Wire Brushing, Beveled Edge, Hand-Scraping, Same Width Planks, End Matching up to 11"


SOLID WOOD FLOORING

WIDTHS: 3"-6" , 4"-8" or 6"-10" random widths (Custom Widths Available)
LENGTHS: 2' & longer (up to 12') random lengths
THICKNESS: 3/4" Standard
FINISH TYPES: UV Cured Natural Oil or Matte (Custom Finishes Available)
CUSTOM OPTIONS: Wire Brushing, Beveled Edge, Hand-Scraping, Same Width Planks, End Matching up to 12"


---

0% Interest & Custom Financing Programs Available!

0% to 18 Months & Other Options Available – Ask Your Design Specialist For Details.

---