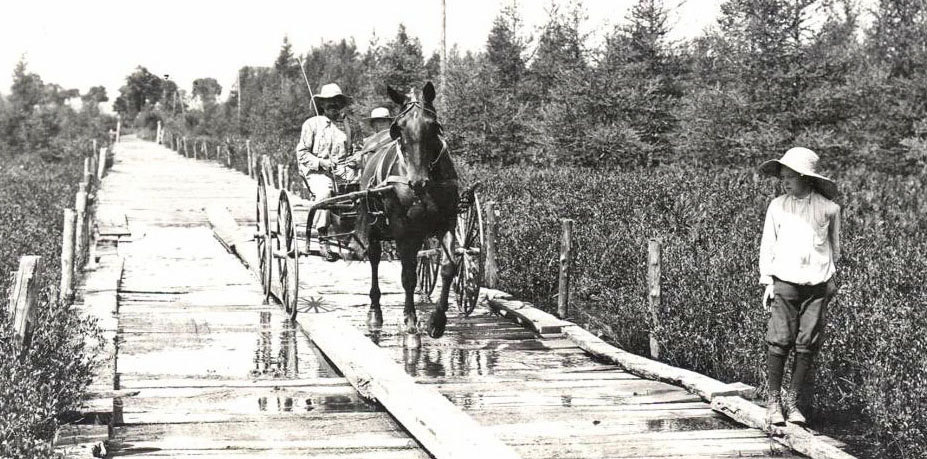 Wooden Highways
There was a time in our past when we did not rely on concrete and asphalt for our travels. In the late 19th and early 20th century, dirt paths had given way to wooden plank roadways. In fact, there were close to three thousand miles of plank roads in New York alone in 1875. By 1880, most other states were also utilizing them.
These planks were laid on 4x6 and 4x12 sleepers, or rails, and looked much like large railroad tracks. However, driving over them sounded more like taking a drive down one of our modern day boardwalks.
While today's highways seem more efficient, in the days when horses and wagons were our modes of transportation, the wooden plank roads were more efficient. Wooden planks provided a perfect environment for horses hooves, wagon wheels, and of course a soothing sound that was music to many a weary travelers ear. Even today a well-maintained plank road would be more desirable for horse-wagon traffic than a modern concrete or asphalt highway. As Frank Johnson M.D., stated in 1867, "Wood is better than stone for pavement, for any pavement that increases the destruction of shoe, horse, vehicle, chaise, or decreases comfort and convenience is not economical though it costs nothing and lasts forever."
I think you will agree when we say that our reclaimed floors carry as much history, tradition, and conversation as these planks did in their own time.