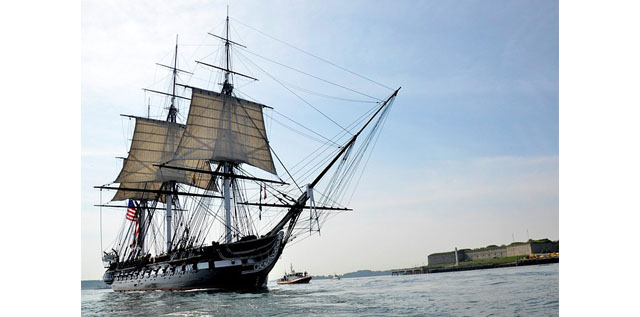 Constitution Grove
When the Revolutionary War drew to a close in 1785, the U.S. Congress decided to sell the Continental Navy's last ship due to a lack of funds. Thomas Jefferson urged the need for an American naval force shortly after, but his suggestions weren't taken seriously until 1793 when 11 American ships were captured by pirates. Congress passed the Naval Act of 1794 to establish a permanent standing naval force for the United States of America.

The Naval Act of 1794 provided the funds for the construction of four wooden warships, including the USS Consitution which today is the world's oldest commissioned warship still afloat. The ship is most noted for its battle with the British in 1812 when it defeated five warships. The battle's cannon balls seemed to bounce off the ship's hull and according to the stories, one sailor exclaimed the ship was made of iron. From that moment on, the USS Constitution was nicknamed Old Ironsides.
Old Ironsides was in fact not made of iron, but it was made with several thick layers of White Oak. Even after 200 years, 12% of the ship contains its original wood planking. Currently, it has been docked in Massachusetts for repairs to preserve the ship and restore some of its early 19th century features.
Preparations for the restoration began in 2012 with the picking of acceptable White Oak timber for the ship. Most planks for the hull need to be 30 to 40 feet long, 6-inches thick and have no defects. Wood with these characteristics is very difficult to find, but luckily there is a particular forest in Indiana grown specifically to repair Old Ironsides. White Oak from this forest was first used to repair the ship in 1973, and during the United States' bicentennial the forest was named "Constitution Grove."
Because of its strength and endurance, White Oak was the go-to timber for many forms of construction (such as the building of barns) in the 18th and 19th centuries. Today, this wood can be preserved in the form of beautiful reclaimed wide plank flooring.